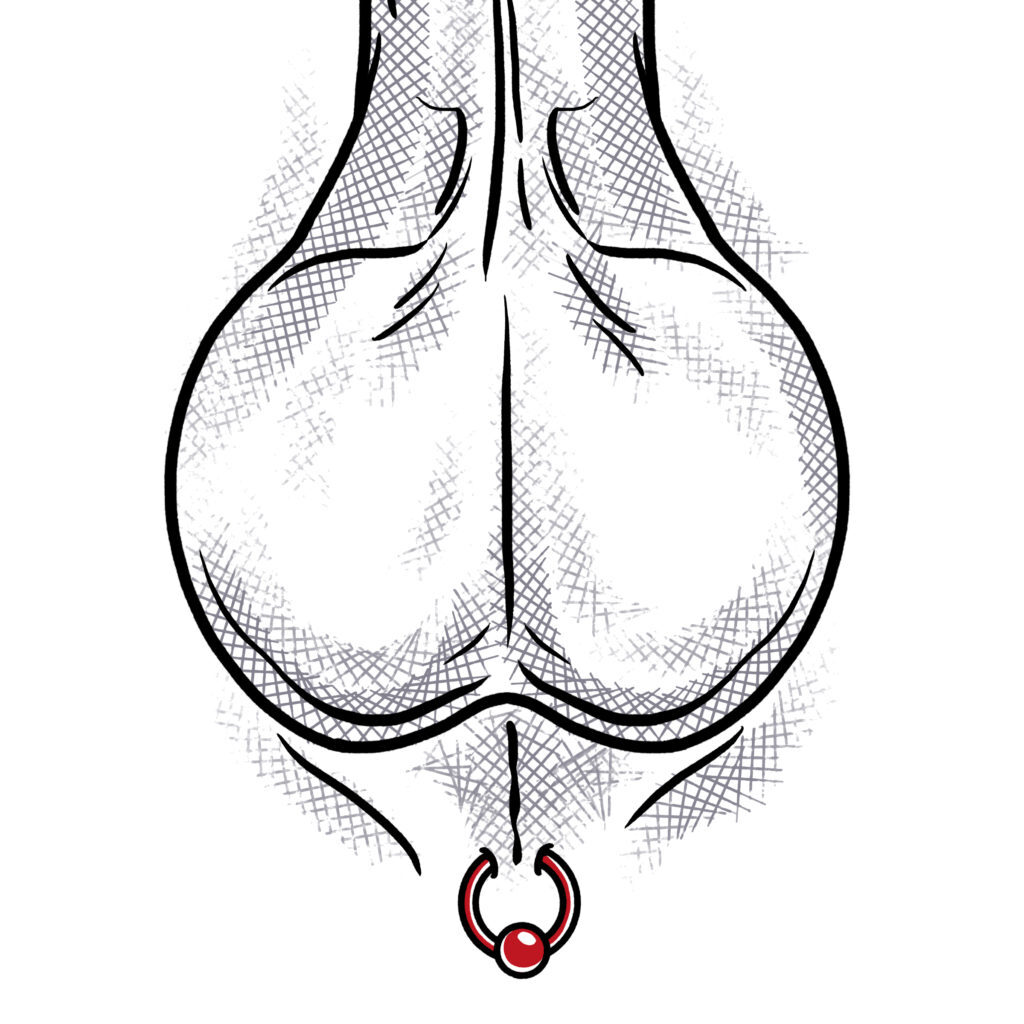 The Guiche is usually done to round off a Scrotal Ladder and is placed at the lower end of the scrotum, between the anus and the scrotum.
The Guiche can also be seen as a deep Hafada.
The Guiche piercing is usually worn by men, but can also be worn by women in the perineal area ("a female Guiche").
Execution:
It is perpendicular to the seam between the scrotum and the anus, and for women between the vagina and the anus. Thanks to its proximity to the perineum, it provides stimulation to the wearer. However, especially during the healing phase the piercing can cause complications during athletic activities such as cycling or jogging, but the discomfort will subside after the initial stage.
Jewelry:
Both a curved barbell and a BCR are options for this piercing.
However, we recommend a flat segmented ring without balls.
To boost stimulation, a second ring can be inserted into the first, allowing it to hang freely from it.
For this piercing we can use the jewelry that is generally used for female clitoral hood piercings, which has a large selection of chains, balls, and rings.
Stretching:
Because the skin tissue in this area is quite flexible, the Guiche piercing can be stretched without difficulty.
Larger jewelry (weighted) can also be attached.
Healing:
The Guiche piercing takes 3-6 months to heal.
Genital piercings can take between 2 weeks and 6 months to heal completely, rarely longer. Like other external piercings, in the first three weeks it should be cleaned with ProntoLind spray twice a day, and then coated with ProntoLind gel. It is important to wash your hands before touching the pierced area and the jewelry itself. By caring for the piercing in the correct manner and with the proper materials, you will rarely have to deal with cases of proud flesh.
In the first few days following the procedure, we recommend that you abstain from sexual intercourse, and wear a condom when resuming normal sexual activities.
Using urine helps the wound heal considerably more quickly.
Because of its proximity to the anus, you need to ensure even greater hygiene than usual during the healing phase. Therefore, when wiping yourself, ALWAYS do so AWAY from the genital area to avoid contaminating the piercing with bacteria.
Stimulation:
Some men report greater stimulation of the prostate with the Guiche piercing.
Visually this piercing is also remarkable.