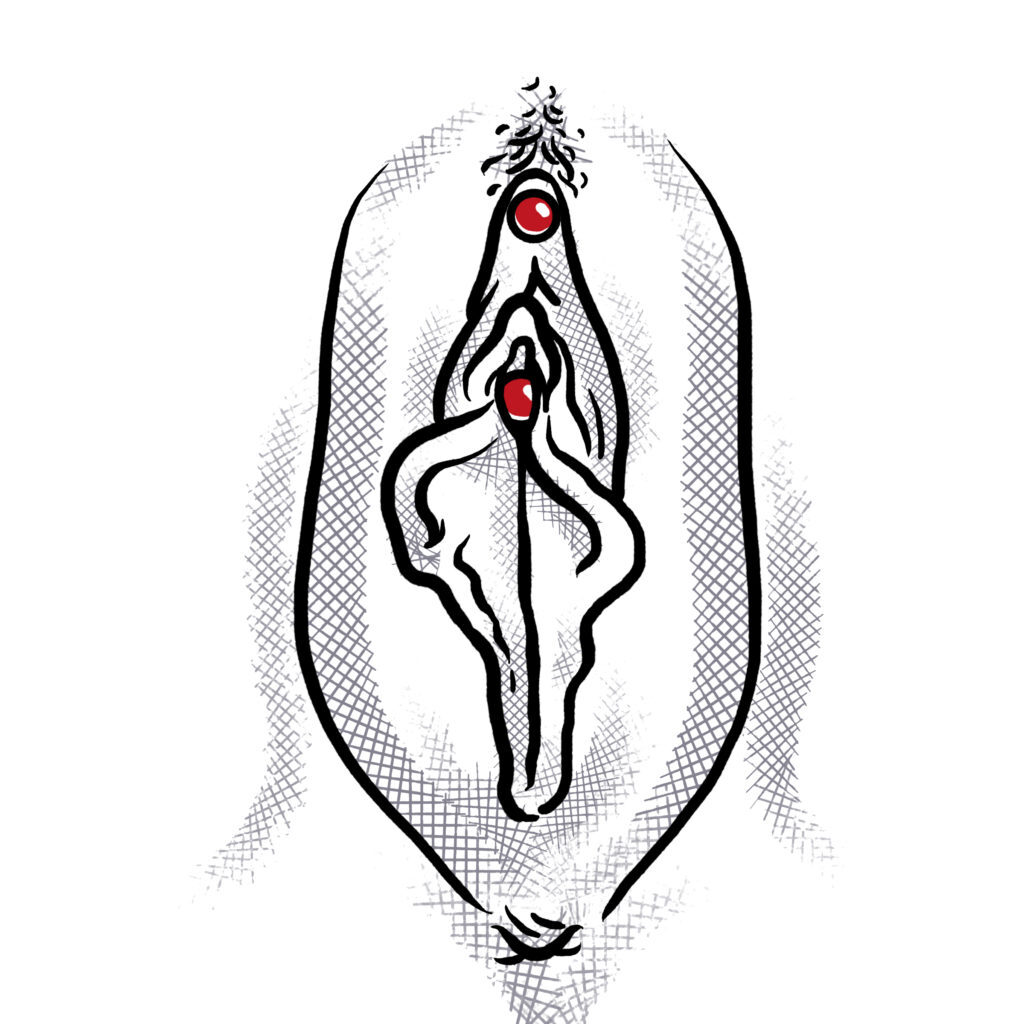 The Nefertiti originated from the Isabella Piercing. The Isabella piercing runs vertically upward from the point at which the inner labia and the clitoris meet (the triangle), and comes out through the top of the clitoral hood just before the pubic mound.
It is effectively a combination of the Triangle Piercing and a vertical clitoral hood piercing.

The piercing runs behind the clitoris upward toward the pubic mound.
Stimulation:
Like the Triangle Piercing, the Isabella stimulates the clitoris from below and behind. But unlike the Triangle Piercing, it runs exclusively behind the clitoris and therefore stimulates it much more than the Triangle piercing, and it is as visually alluring as its name suggests.
The customers have reported very pleasurable sensations thanks to this piercing.
Healing:
The Isabella Piercing generally heals very quickly and there are rarely any complications, since it is in constant contact with urine. Approximately 3-4 weeks are needed for the initial healing stage. Genital piercings can take between 2 weeks and 6 months to heal completely, rarely longer. Like other piercings, in the first three weeks it should be cleaned with ProntoLind spray twice a day, and then coated with ProntoLind gel. It is important to wash your hands before touching the pierced area and the jewelry itself. By caring for the piercing in the correct manner and with the proper materials, you will rarely have to deal with cases of proud flesh.
Disinfectant solutions containing alcohol or chlorine should be avoided.

When it comes to having sexual intercourse following the piercing we do not advise you against it, but usually people wait a couple of days before resuming normal sexual relations.
Jewelry:
The best option as an initial form of jewelry is the PTFE bar, because it is flexible and therefore adapts well to the movements of the person wearing it.
The jewelry selected should have a diameter of 1.6mm with a corresponding bar length, depending on the anatomy of the customer.
Alternatives:
Those who don't wish to get an Isabella piercing can opt for a vertical clitoral hood piercing or a Nefertiti piercing.