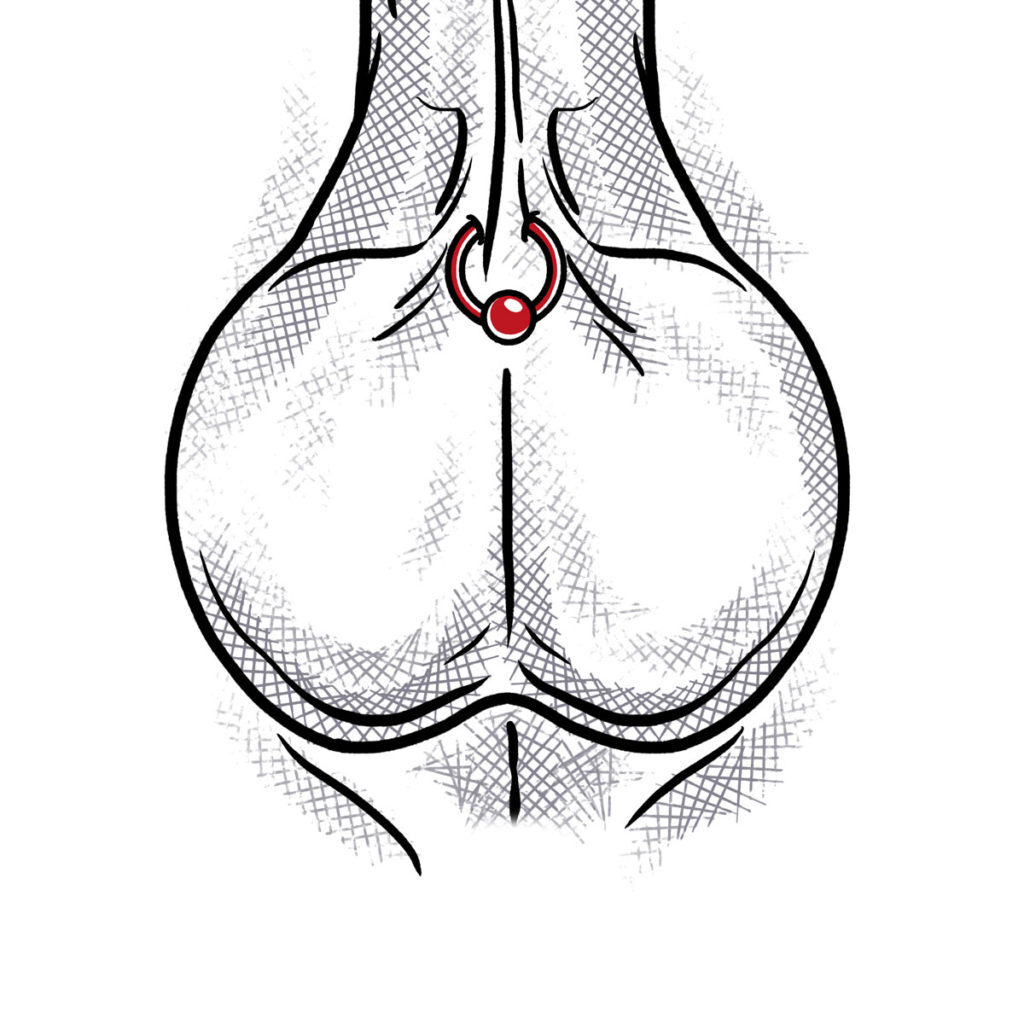 The Lorum is a blend of the Hafada and the Frenum, also known as the Low Frenum. The Lorum runs directly through the intersection of the penis shaft and the scrotum. It is essentially an elevated Hafada piercing.

Piercing procedure:
The Hafada is usually not very deep, and although it is technically a surface piercing, thanks to the flexibility of the scrotum skin, the risk of it growing out is very minimal.
We generally use rings for this procedure, which can later be replaced by barbells. The Hafada piercing can also be stretched.
Jewelry:
The piercing can be done with a ball closure ring or a barbell, with a thickness of 1.6mm or 2.0mm, depending on the individual's preference. It can subsequently be stretched.
Healing:
Due to the scrotum's thin skin, the Lorum heals quickly and without complications, usually within 4 to 8 weeks.
Genital piercings can take between 2 weeks and 6 months to heal completely, rarely longer. Like other external piercings, in the first three weeks it should be cleaned with ProntoLind spray twice a day, and then coated with ProntoLind gel. It is important to wash your hands before touching the pierced area and the jewelry itself. By caring for the piercing in the correct manner and with the proper materials, you will rarely have to deal with cases of proud flesh.
Using urine helps the wound heal considerably more quickly.
We recommend using a condom in the initial period of healing.
Stimulation:
The stimulation provided by the Lorum is aesthetic, both for the wearer and the partner.
The Lorum Piercing is frequently used as a Chastity Piercing in the SM (Sadomasochistic) cultural scene and is combined with a frenum piercing, in order to prevent the penis from getting erect by inserting a lock through both piercings.
Variations:
Transscrotal-Piercing:
A piercing which goes in the front end of the scrotum and comes out the back is called a Transscrotal piercing, given that it traverses the scrotum (but not the testes).
Scrotal Ladder Piercings:
In many cases, more than one Hafada piercings are created consecutively or configured symmetrically in a creative manner. And when several piercings are arranged in this fashion, like the rungs of a ladder, it is known as a Scrotal Ladder (or a Hafada Ladder).
Hafada-Piercing:
The Lorum is simply a variation of the Hafada Piercing.