Multiple configurations of piercings around the mouth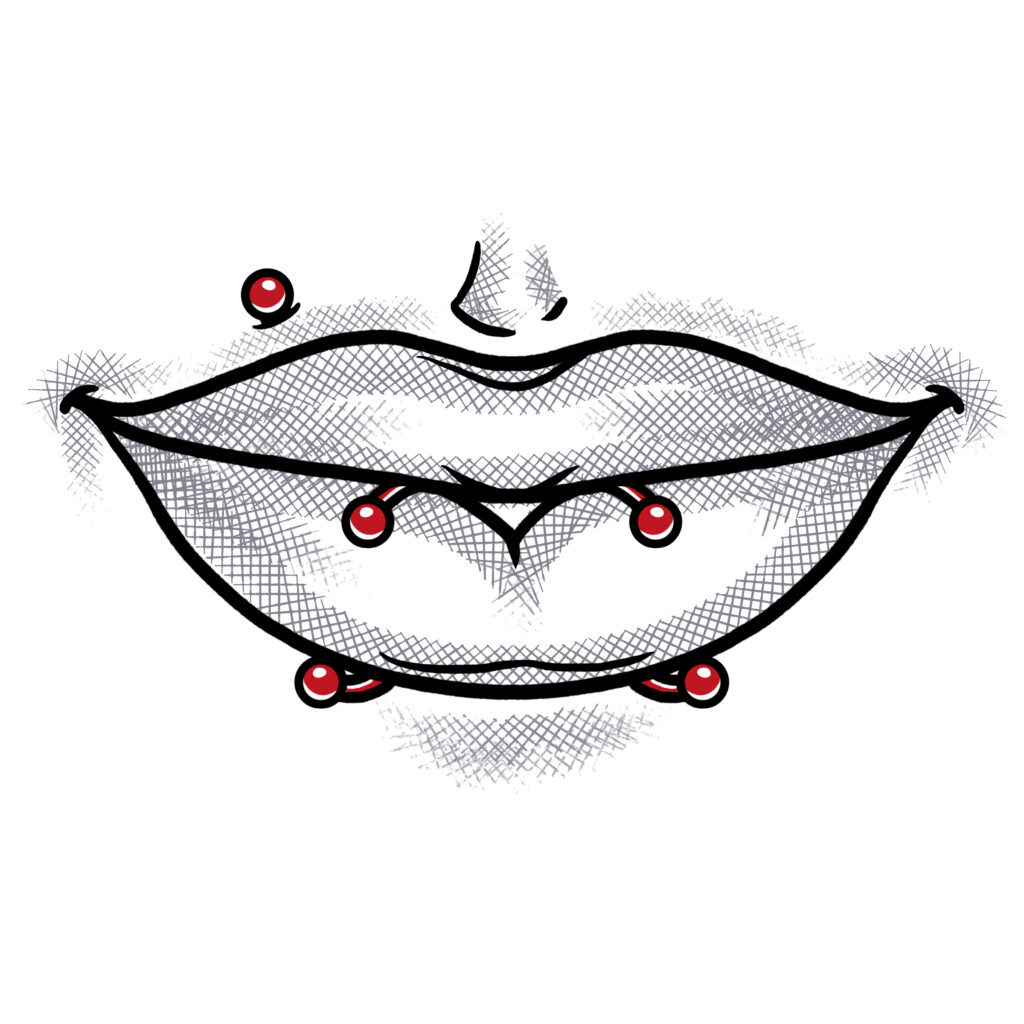 What was that piercing called again?
What exactly is a ….-Bite?
There are in fact so many variations and configurations that it would be hard to list them all. We have compiled a list of the most prominent styles and configurations of piercings for you. Ultimately it doesn't matter what the piercings are called, as long as they appeal to you.
Here are the answers to both questions:

When more than one piercing is combined on the lower lip, these are known as "bites"
The best known are the Snake-Bites, but other combinations have also been given a name.
Snake-Bites: Everyone will be familiar with these: they are two labrets placed symmetrically on either side of the lower lip, with a ring or a stud.
Cyber-Bites: This is a combination of the Medusa piercing and a chin labret on the lower lip.
Spider-Bites: Two piercings performed side-by-side on the lower lip, known as a "pair".
Angel-Bites: two symmetrically placed piercings on the upper lip, e.g. a Madonna and a Marylin.
Viper-Bites: these are effectively Spider-Bites that are a little farther apart, that is, two piercings on the same lip with more distance between them. Spider-Bites with a labret.
T-Rex-Bites: Named after the dinosaur, these are three symmetrically placed piercings on either side of the lower lip using labrets.
Shark-Bites: Four lower-lip piercings: two labrets on the left and two on the right side.
Canine-Bites: This comes from its resemblance to canine teeth and consists of four piercings as a combination of Angel-Bites (upper lip) and Snake-Bites (lower lip).
Healing and care:

A justrum piercing can take between 24 days and 2 months to heal completely, rarely longer.
This type of piercing can be seen as both an external and an oral piercing, and should be cared for accordingly.
Like other mucous membrane piercings, in the first three weeks it should be cleaned with ProntoLind spray twice a day, and then with a ProntoLind mouthwash.

It is important to wash your hands before touching the pierced area and the jewelry itself—the hands should be kept away from the mouth.
ProtoLind mouthspray tastes good and helps to freshen your breath. It is ideal for when you're on the go and should be applied after every meal in order to disinfect and cleanse the piercing area.
Disinfectant solutions containing alcohol or chlorine should be avoided. Mouthwashes are no substitute for proper care and should therefore be avoided.
The right nutrition is vital for oral piercings, and you will find detailed information on this topic in the care and maintenance section.