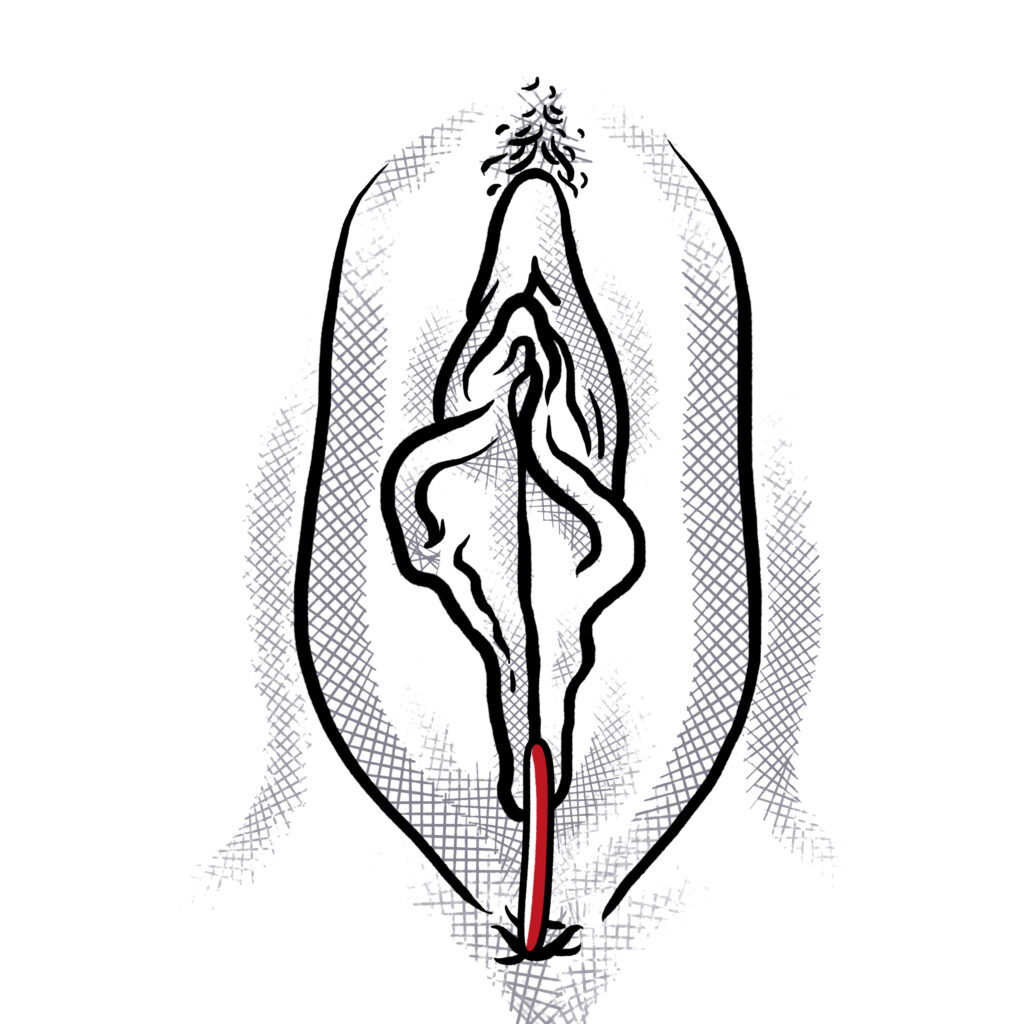 The Suitcase Piercing or T'aint is the term for a relatively rare, female genital piercing, which runs through the vagina and the anus. This may sound unpleasant but isn't, since the skin membrane in this area is only a few millimeters thick.
Placement:

The piercing canal runs through the anus/rectum and the vagina, which effectively makes it a combination of a deeper anus piercing and a deeper Fourchette piercing.
In other words, it starts approx. 1-2cm into the vaginal entrance and comes out of the anus. The ring then runs through the vagina and exits the anus.
A relatively thick piece of jewelry is recommended for this procedure.
Healing:
The Suitcase piercing does not heal as well as other genital piercings given that there is a lot of bacteria in the area of the anus. That is also why good hygiene is imperative for the success of this piercing. Provided one puts in the effort, it should not cause problems, and infections are rare once the wound has healed.
Approximately 3-5 months are needed for the initial healing stage.

Genital piercings can take between 2 weeks and 6 months to heal completely, rarely longer. Like other piercings, in the first three weeks it should be cleaned with ProntoLind spray twice a day, and then coated with ProntoLind gel. It is important to wash your hands before touching the pierced area and the jewelry itself. By caring for the piercing in the correct manner and with the proper materials, you will rarely have to deal with cases of proud flesh.
Disinfectant solutions containing alcohol or chlorine should be avoided.
When it comes to having sexual intercourse following the piercing we do not advise you against it, but usually people wait a couple of days before resuming normal sexual relations or stimulating the area in question.
Stimulation:
Women who engage in anal sex or generally enjoy anal stimulation during intercourse are particularly fond of this form of piercing.
Due to its placement, this piercing stimulates both the vagina and the anus during intercourse, whether or not the the sex is vaginal or anal.
This piercing is rarely performed and is therefore all the more enticing—anyone who has it done can certainly consider themselves unique.
Jewelry:
As jewelry we recommend a ring of at least 2.0mm thickness with a corresponding diameter, which will ensure that the piercing is comfortable for the wearer. The ring can subsequently be adapted further to the anatomy of the customer.
Alternatives:
Either the anus piercing, a female Guiche piercing, or the Fourchette piercing