Surface Piercings in the Genital Area for Women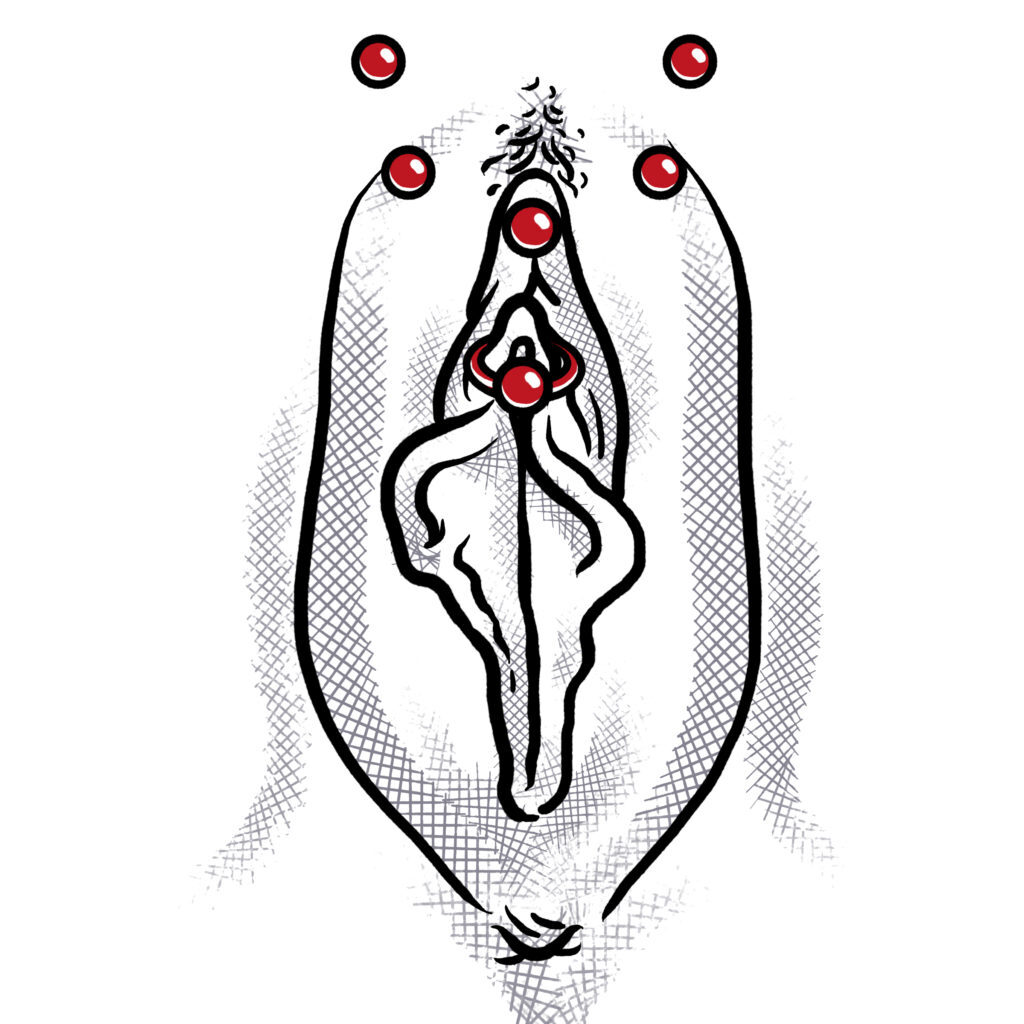 Of course there are many genital piercings for men and women which have their own Wiki entries.
Here it is a question of which piercings are considered genital surface piercings.

For women this includes:
The Christina (pubic mound, pubic bone piercing)
The female Pubic-Piercing (vertically or diagonally on the pubic bone).
The Outer Labia, perforated vertically as a surface piercing.
General:
A surface piercing is any body piercing which is performed on a surface of the body/skin which is neither convex nor concave (i.e. flat skin surfaces which neither protrude nor are indented).
Jewelry:

The so-called surface bars are specially designed for surface piercings. These are barbells with two 90° bends at the end (going in the same direction) which reduce the amount of tension.
For the body we recommend using a bar thickness of 1.2mm, and a maximum length of 24mm, depending on the customer's anatomy.
Healing and Care:
Note:
The single-point-piercing should be touched as little as possible (wash and disinfect your hands if doing so), and exposed to as little irritation as possible as well.
Do not remove or twist the piercing when cleaning, since this can further damage the wound canal.
Use ProntoLind-Spray and ProntoLind-Gel twice a day for the first 2-3 weeks, then once a day for another 3 weeks.
Healing Process For All Single-Point-Piercings:
Depending on the area, the initial healing of a surface piercing can take anywhere between 3 – 12 weeks, and up to 12 months for a complete recovery. A swelling of the lymph nodes in the first few weeks is completely normal.
At the beginning, make sure you have a professional piercer switch your jewelry to another size of ball, bar, or ring.
Never tape the piercing wound shut. Also avoid "wound" ointments, alcohol or chlorine-based disinfectants, hydrogen peroxide, and essential oils.
Saunas, sunbeds, steam baths, and any kind of swimming in pools should be avoided for two weeks. Exposure to sea water is allowed after 7 days.
Do not color or dye your hair for the first 6 weeks; use caution when combing your hair or visiting the hairdresser/barber.
It is normal for there to be a wound secretion around the pierced area (initially clear, then yellowish-brown, not to be confused with pus) and for it to become sebaceous. This is part of the healing process, and can be removed with ProntoLind Spray, or when showering.
A slight reddening and swelling of the skin and light post-treatment bleeding are normal in the first 10 days.
When engaging in everyday tasks such as dressing, undressing, eating, shaving, applying cream, showering, washing, opening and closing cupboards, be careful that the piercing does not get caught in something and tear.
Avoid lying down for too long or exerting undue pressure on the pierced area, as this can cause damage.
If you see the piercing growing in a "crooked" direction, you can lightly twist it in the opposite direction and hold it there a few seconds in order to set it straight again.
Placement:
The depth of the piercing canal is essential to a successful surface piercing. We only pierce in areas that we know are safe, and we clearly explain to our clients what is feasible and what isn't.