The female Guiche-Piercing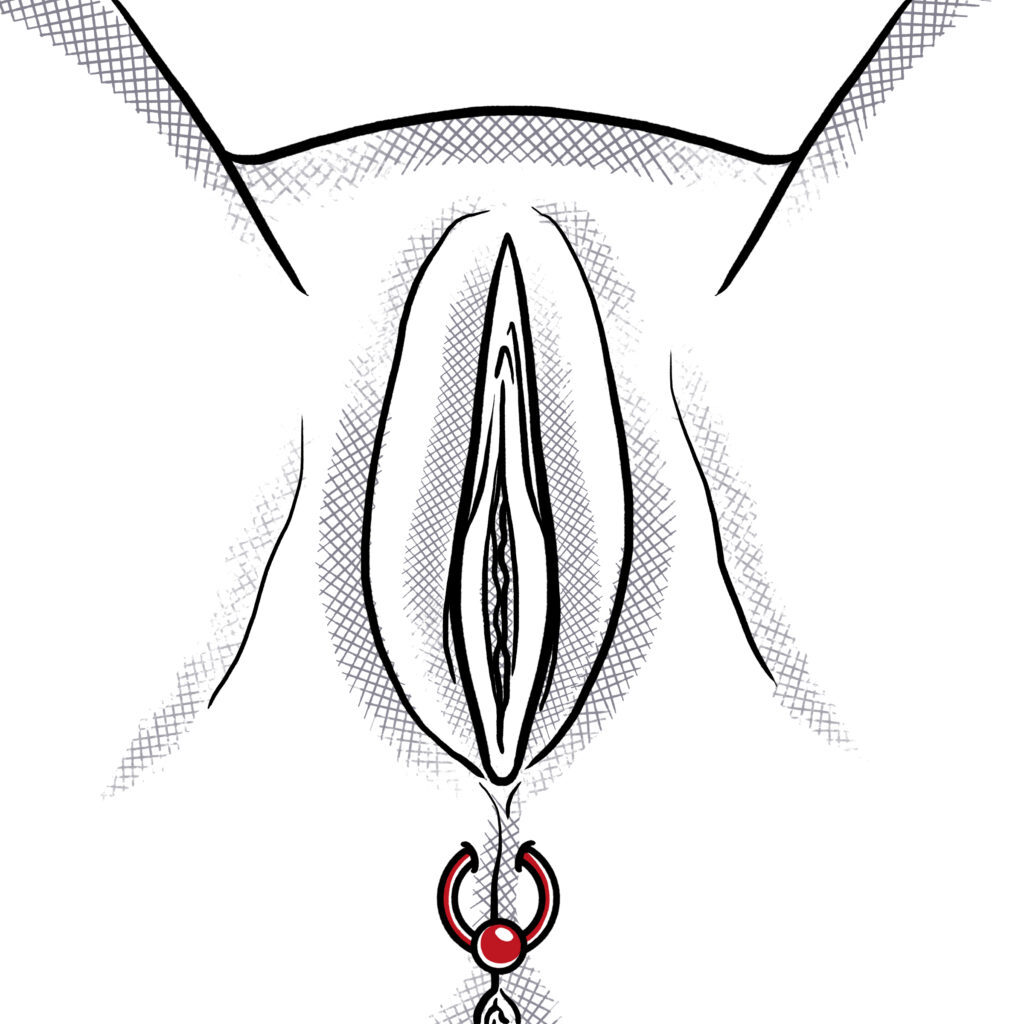 For women, the Guiche piercing is performed horizontally in the perineal area between the anus and the vagina, and is somewhere between a Fourchette and an Anus Piercing.
The actual anus or vagina are not perforated in this procedure, but rather a fold of skin known as the raphe.

For anatomical reasons, it cannot be performed on every person.
Piercing procedure:
As indicated above, it lies on the raphe between the vagina and the anus and is executed horizontally with a ring.
Jewelry:
You can use a curved bell as well as a ring with a corresponding thickness.
The diameter should be at least 1.6mm-2.0mm.
To increase stimulation you can use the following combination: A flat, segmented ring without a ball, to which you then attach a second ring that can swing from it.
Stretching:
Because the tissue in this area is quite flexible, the Guiche piercing can be stretched without problems.
In this case, customers generally wear jewelry measuring 2.0mm-4.0mm in diameter.
Healing:
The Guiche Piercing generally heals very quickly and there are rarely any complications. Approximately 4-5 months are needed for the initial healing stage.
Genital piercings can take between 2 weeks and 6 months to heal completely, rarely longer. Like other external piercings, in the first three weeks it should be cleaned with ProntoLind spray twice a day, and then coated with ProntoLind gel. It is important to wash your hands before touching the pierced area and the jewelry itself. By caring for the piercing in the correct manner and with the proper materials, you will rarely have to deal with cases of proud flesh.
Disinfectant solutions containing alcohol or chlorine should be avoided.
When it comes to having sexual intercourse following the piercing we do advise you against it, but usually people wait a couple of days before resuming normal sexual relations or stimulating the affected area.
Because of its proximity to the anus, you need to ensure even greater hygiene than usual during the healing phase. Therefore, when wiping yourself, ALWAYS do so AWAY from the genital area to avoid contaminating the piercing.
Stimulation:
Those who wear this piercing have reported increased stimulation of the vagina as well as the anus, albeit less than with the Fourchette or the Suitcase.
This piercing is predominantly worn by men, and will be of interest to many women.
Alternatives:
Either the anus piercing or the Suitcase piercing.