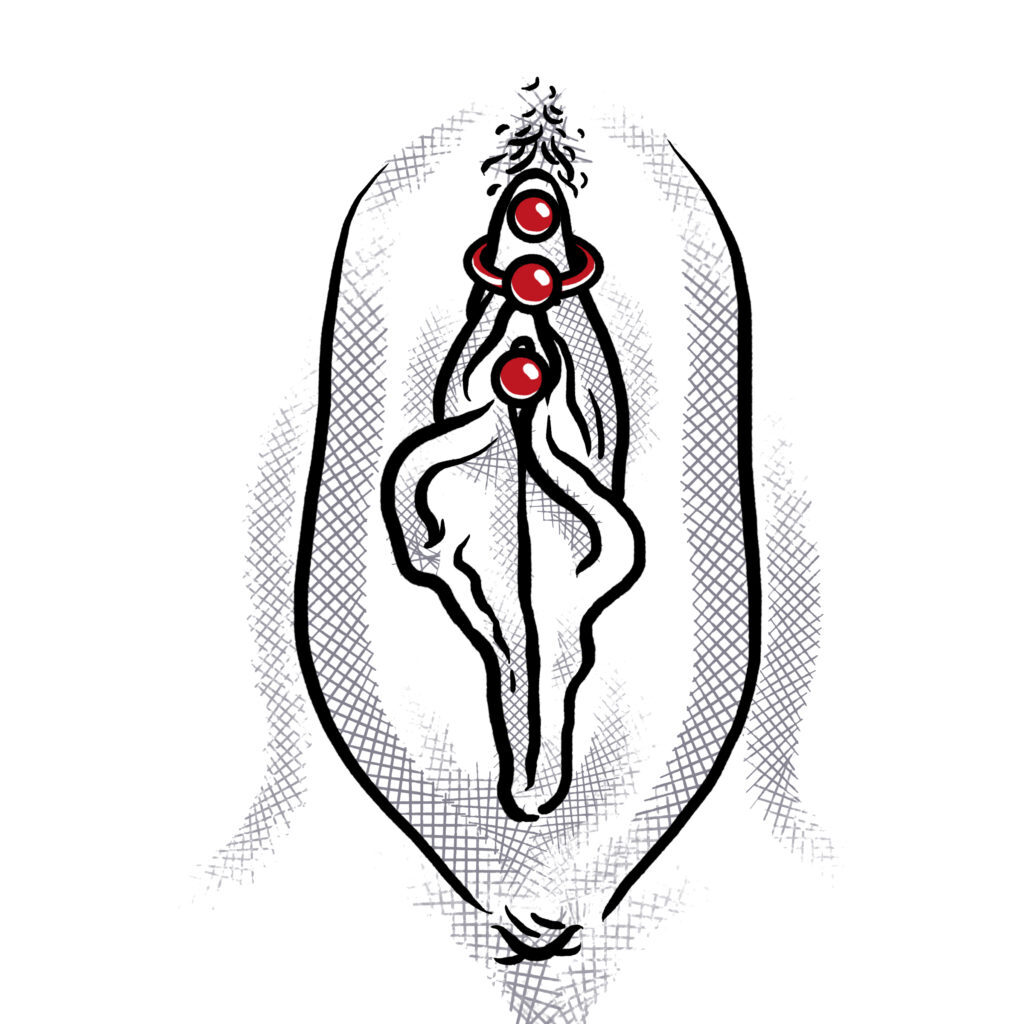 This variation involves a combination of the vertical and horizontal clitoral hood piercing, which creates a very erotic look and provides a considerable sexual boost.
The advantages of both piercings are combined and blend beautifully. Anatomically speaking it is well tolerated, and is tasteful.
The two piercings do not get tangled or in each other's way.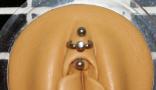 We can promise that the Magic Cross piercing lives up to its name: it isn't just "magical" in its appearance, but it feels that way too!
Piercing procedure:
The Magic Cross can be either done in one sitting or gradually.
Many customers opt directly for a Magic Cross, while others start with one of the clitoral hood piercings and then move on to the Magic Cross.
As always, our motto is: to each his own.
Stimulation:
The sexual pleasure derived from a Magic Cross is twice that of the individual clitoral hood piercings.
This doesn't mean that it is a constant source of stimulation (e.g. while riding the subway or sitting in the office), but that it can be stimulated by the woman or her partner.
The degree of stimulation can be strengthened or weakened depending on the size of the ball and length of the bar.
Most women agree that this piercing does in fact provide a great deal of pleasure when it comes to sensual experiences and orgasms.
Jewelry:
There are countless jewelry options when it comes to a VCH piercing. Generally we recommend a lightly curved 1.6mm bar. Occasionally a VCH piercing is stretched to 2.0mm or 2.5mm.
We adapt our piercing to the person's anatomy in such a way that a beautiful Magic Cross is obtained. Generally we combine a 10mm ring and a 12mm banana ring.
Some customers like larger balls, some smaller, some prefer pendants and others rattlebells (the vibrating balls).
Whatever your wish, we have the right jewelry for you.
Healing:
The Magic Cross piercing generally heals very quickly and there are rarely any complications. Approximately five weeks are needed for the initial healing stage.
Genital piercings can take between 2 weeks and 6 months to heal completely, rarely longer. Like other external piercings, in the first three weeks it should be cleaned with ProntoLind spray twice a day, and then coated with ProntoLind gel. It is important to wash your hands before touching the pierced area and the jewelry itself. By caring for the piercing in the correct manner and with the proper materials, you will rarely have to deal with cases of proud flesh.
Disinfectant solutions containing alcohol or chlorine should be avoided.
When it comes to having sexual intercourse following the piercing we do not advise you against it, but usually people wait a couple of days before resuming normal sexual relations.
A secret tip is using your own urine as a healing agent, which can speed up the healing process enormously.
Variations:
In making a Magic Cross you can also combine a deep clitoral hood piercing with a VCH piercing.
Another alternative is a Princess Diana piercing combined with a vertical clitoral hood piercing, which results in a more substantial Magic Cross.
Lastly, you can also perform a Double Magic Cross, by combining a horizontal, a deep, and a vertical clitoral hood piercing. We are never short on ideas.