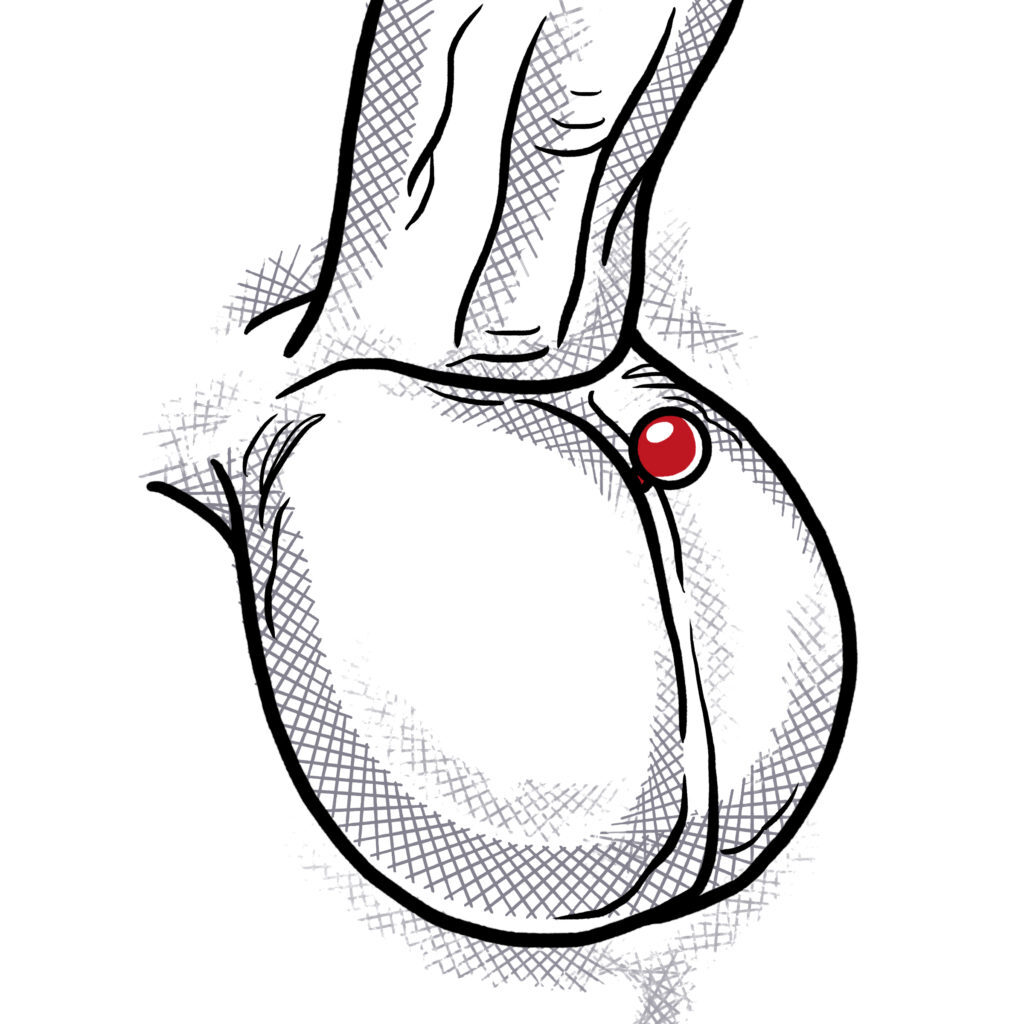 A Transscrotal Piercing is nothing other than a Hafada Piercing which runs through the scrotum from back to front. It runs through the testes without actually touching them, through the middle of the scrotum in the direction of the anus.
Piercing procedure:
The Transscrotal is usually deep and runs through the scrotum, using a long titanium barbell or a PTFE barbell.

We generally use rings which can later be replaced by barbells. The Hafada piercing can also be stretched.
Jewelry:
As a rule, we use a 1.6mm barbell, whose length will vary depending on the person's anatomy.
Healing:
The initial healing time of this piercing is 4 – 8 months. During that time we recommend that you regularly clean the affected area. The healing process in this case is relatively complex.
Genital piercings can take between 2 weeks and 6 months to heal completely, rarely longer. Like other external piercings, in the first three weeks it should be cleaned with ProntoLind spray twice a day, and then coated with ProntoLind gel. It is important to wash your hands before touching the pierced area and the jewelry itself. By caring for the piercing in the correct manner and with the proper materials, you will rarely have to deal with cases of proud flesh.
In the first few days following the procedure, we recommend that you abstain from sexual intercourse, or at least wear a condom if doing so.
Using urine helps the wound heal considerably more quickly.
Stimulation:
Visually striking and very rare, this piercing can pose a risk, however.
The man's partner will be stimulated by the Hafada piercing during intercourse, depending on how close it is to the shaft of the penis.
Variations:
Hafada-Piercing:
A piercing of the scrotum.
Scrotal Ladder Piercings:
In many cases, more than one Hafada piercings are created consecutively or configured symmetrically in a creative manner. And when several piercings are arranged in this fashion, like the rungs of a ladder, it is known as a Scrotal Ladder (or a Hafada Ladder).
Lorum (Low Frenum):
The Lorum is nothing other than a Hafada which is placed directly at the point where the penis shaft meets the scrotum. In other words it lies directly in the fold where the scrotum begins.
The Lorum and Frenum piercing are commonly combined with a lock in SM games, in order to prevent the man from getting an erection.