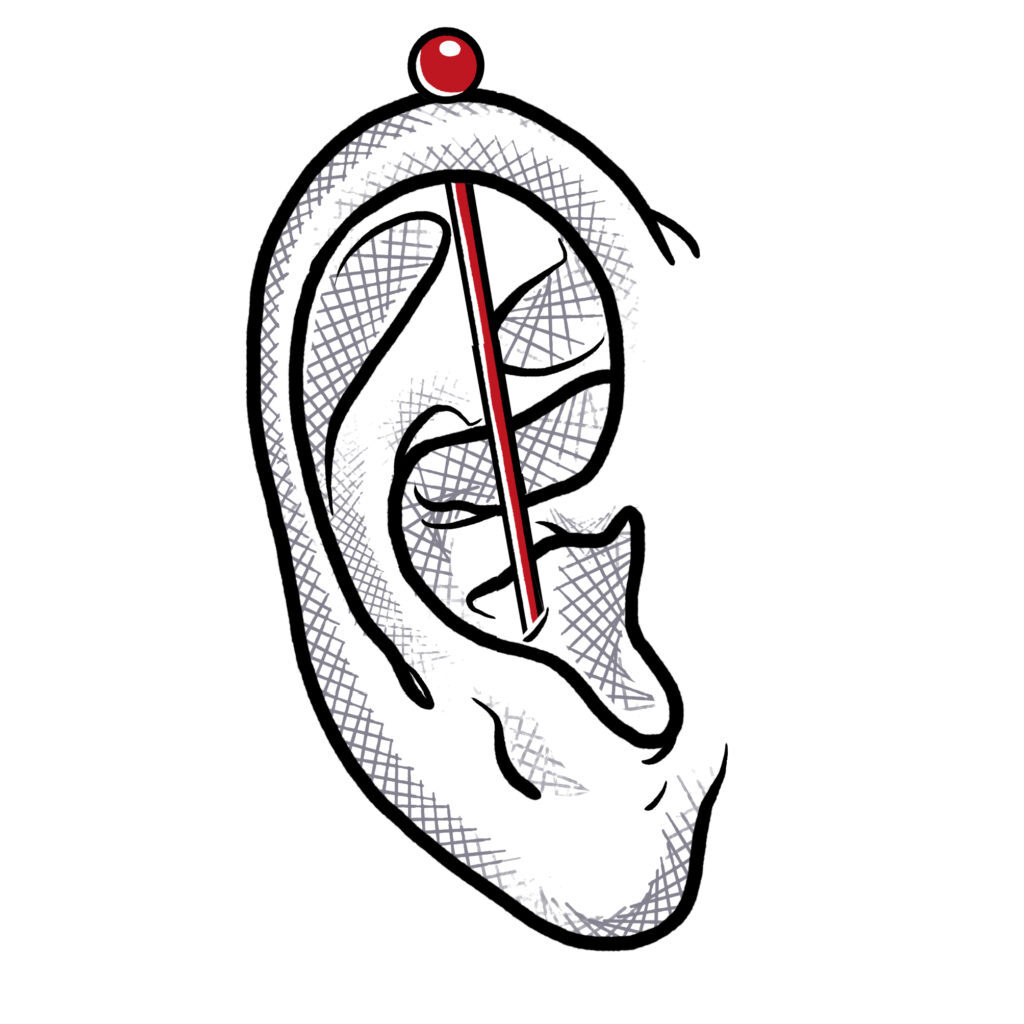 An industrial piercing done in the traditional manner is very attractive, but also quite common.
But it can be done in many other places as well, and therefore offers the customer the option of doing something a little different, such as a vertical industrial, as seen in the picture. The black PTFE barbell goes from high to low through the auricle, vertically in other words. At first glance it might appear that the barbell is merely attached, but it is actually going through. Above the ear you can see the titanium ball twinkling, whose length and type the customer can vary according to his wishes. The vertical industrial piercing looks great "live" and it is hard not to admire its beauty.
Perforation of an industrial piercing:
This kind of piercing is usually done in a diameter of 1.6mm, and the barbell is worn during the healing process. One can also use two ball closure rings or two separate short barbells, and later replace these with a long barbell. This can speed up the healing process, but the precise coordination of the piercing canals in this method is tricky, and since it depends largely on the patient's individual anatomy, this piercing is not always feasible.
As with any ear cartilage piercing, the punching method is also a good option (in which the piercing is "embossed" so to speak). In the punching method, the cartilage tissue is not only pushed to the side but is removed altogether, which facilitates the healing process.
We recommend that you use a long barbell from the outset (22-40mm, depending on the patient's anatomy and angle).
Healing and care:
An industrial piercing can take between 6 and 12 months to heal completely, rarely longer. Like other external piercings, in the first three weeks it should be cleaned with ProntoLind spray twice a day, and then coated with ProntoLind gel. It is important to wash your hands before touching the pierced area and the jewelry itself. By caring for the piercing in the correct manner and with the proper materials, you can do a great deal to prevent the onset of proud flesh.
Disinfectant solutions containing alcohol or chlorine should be avoided.